Getting there:
The most efficient way to get to the area is to fly to Grenoble or Geneva and rent a car at the airport. It is possible to fly to Lyon or Nice, but the drive will be longer.

For the first time I did not empty the tires of my bike before the flight and this created no problems. The pressure in the passenger cabin corresponded to less than 2 000 metres above sea level..

Once there a car is needed. When planning the trip, do not calculate to average more than 50 – 60 km/h on the roads that are not highways..

We got our rental car upgraded to a Renault Scenic. If you do not care how the car behaves when the road is not perfectly straight, it is really great for bike transportation.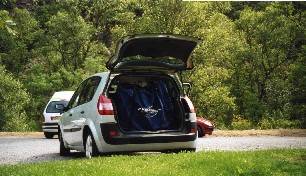 Bike transportation in a Renault Scenic.
Where to stay:
There are a few hotels in Bourg d'Oisans and there are lots at the Alpe d'Huez. I had opted for Bourg d'Oisans since I believed that the road up to Alpe d'Huez would be narrow and badly paved. If you want to see the area and do not plan to go back and forth to the hotel, it is alright to stay at the Alpe d'Huez. You have to go there anyway to get the start number and Kiwin, unless you want to do it early Saturday morning in Bourg d'Oisans before the race.

There is actually a hotel at the Col du Lautaret if you want to spend some nights 2 000 metres above sea level and do not mind staying in an intersection. The area is very beautiful, but there is a limitation in leisure pursuits at hand.

Bike and equipment:
Two chain rings had been enough; 53 – 30 had done the trick, if such combination would be available. I only used my 39 chain ring for transition between the other two. I would not mind a 25 sprocket either. Eventually, the individual strength and preferred cadence should determine the gears to use.

Checking all gears before the race is no bad idea.

If the time and trip meters are set to measure the time irrespective if the bike moves or not, there is no question of how long time has passed since the start.

In good weather conditions it might be an idea to skip the windstopper gilet and use a newspaper under the jersey on the descents. The paper can be thrown away once it has been used.

Food and drink:
Once stopping at the feeding station, take the time to eat enough. It is probably worth it, if it prevents cramp and exhaustion later on.

I used to have a rule of thumb to eat a power bar every 40th kilometre. This is useless in a race with this kind of profile, where one power bar every hour and fifteen minutes as a rule would be more suitable.

Consider bringing salt tablets and drink much during the race to avoid cramp.