"Everyone in here has extremely short hair!"
was Robert's first remark as we embarked the coach in Paris. "Many have probably shaved their legs as well" I answered more or less automatically. We got ourselves a double seat each, sat down and waited for the coach to continue its journey southwards.

We had arrived in Paris the day before and spent the night at the same hotel as the other participants in Graham Baxter Sporting Tours' trip to the Pyrenees. Since most travellers were British, we had aimed for the hotel bar and sure enough we did meet some Brits and Aussies who were looking forward to a one-week cycling tour in the Pyrenees. Once we had breakfast, loaded our bikes and suitcases on the coach we were ready to continue our journey to Hendaye, a small town at the French Atlantic coast, close to the Spanish border.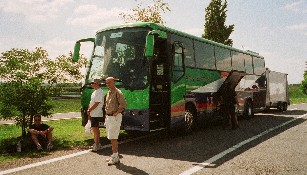 The Fraser Eagle during a stop in France.

We arrived to the Hotel Campanile in Hendaye around 18:30. After all luggage had been put in the hotel room, we started to put our bikes together. As soon as I was done with mine I set off to check the route out of Hendaye. I immediately encountered a fairly steep climb and decided to ride it up to the top. It turned out to be quite steep and 3.5 kilometres long. Back at the hotel I found out that I had taken the wrong turn as soon as I had left the hotel car park. Well, at least that would ensure we would miss the climb next day.

The Raid Pyrénéen is arranged by the Cyclo Club Béarnais in Pau and the route follows the border between France and Spain from Hendaye to Cerbère at the Mediterranean coast. The raid can be performed anytime, in any direction and in less than 100 hours. When the arranging club has been notified of the timing and direction of the raid, each participant receives a card, the Carnet de Route, to be stamped at a number of places along the way. The Raid Pyrénéen measures 720 kilometres, climbs 18 classified Cols and more than 11 000 metres.

This trip was arranged by Graham Baxter Sporting Tours. They had taken care of all contacts with the Cyclo Club Béarnais as well as made all necessary arrangements with respect to hotel booking and transportation. By choosing Graham Baxter Sporting Tours we also got to know other cyclists, with whom we were able to complete the raid. There were a total of 23 riders on this trip. Besides Robert and myself from Sweden, there were three Australians and the rest were from Great Britain.

Graham Baxter Sporting Tours normally arrange two trips to the Pyrenees each year, one after midsummer and one in the beginning of September. The trip goes by coach from England, across France to Hendaye and it is possible to join in at any of the stops. Due to some narrow tunnels, the coach cannot always take the same route as the riders during the raid, so there is also a car that follows exactly the same roads as the cyclists, so it is possible to get access to personal equipment if needed.

Ray and Andy were our leaders on this tour. They alternated between driving the car and joining the cyclists on their bikes. Eddie was our full time coach driver.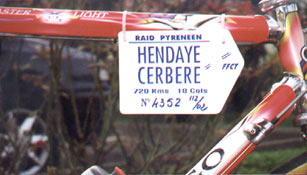 Mikael's bike.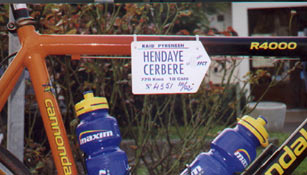 Robert's bike.

Mikael's bike on this trip was a Colnago Master X Light equipped with a triple chain ring, 52 - 42 - 30, and a nine-speed sprocket, 12 - 23. The wheels had 28 spokes, Dura Ace hubs, Ambrosio Excellight rims and Vittoria CX TT 23 mm clincher tyres.

Robert's bike was a Cannondale R4000 equipped with a 53 - 39 chain ring and a 12 - 27 nine-speed sprocket. The Mavic wheels had 32 spokes, Open Pro rims and Continental Four Seasons 23 mm clinchers.